(Hurry, those new lead and listing opportunities won't wait!)
Have you been meaning to activate your SavvyCard® and just haven't gotten around to it? The time is NOW! We have even whipped up a little refresher course. In a few short minutes, you will hold the power from any device to:
Generate More Leads
Get More Buyers
Win More Listings
Save More Time
Top Producing REALTORS® love SavvyCard. Tom Scaglione shares his Savvy tips: "I was very excited to get started with SavvyCard, it allows me to reach those mobile users. That's how 90% of the public now access the internet." Click the image below to hear more about Tom's experience with SavvyCard.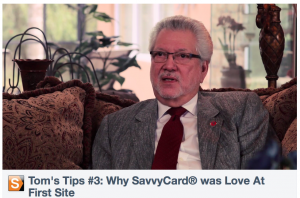 Tom's Tips #3: Why SavvyCard® was Love At First Site
Sound good? Let's find your SavvyCard.
Your SavvyCard® web app is a FREE TOOL offered by your REALTOR® Organization to all its members. If you don't remember how to get to your SavvyCard web app, don't fret! Here are the easy steps you need to get up in running in a flash:
Call us and to talk to a live person for help: (727) 502-6012; OR
Text FINDCARD to 72889.
Found it? Awesome! Now Save Your SavvyCard in 2 Easy Steps:
Once you have opened your SavvyCard web app, follow the instructions that pop-up when you first load it. If you do not see these directions in a pop-up, simply tap on the "Save" button on the face of your SavvyCard and follow the save instructions (Note: If you do not see the "Save" button on the "front" of your SavvyCard, it may be on the "back". To access the back, tap the "More" button. This will load the buttons on the back of your card including the "Save" button).
Follow the instructions provided for your device. If you need help, call us: (727) 502-6012.
Once your SavvyCard web app is saved on your device, you will be able to launch it from this saved icon whenever you need it (which will be frequently once you understand all it can do!)
Want to learn more?
If you have not yet, make sure you sign up for a free webinar with our friendly and helpful Customer Advocates. They'll walk you through all the features of your SavvyCard web app so you can start using it now to build your business. Call 727-502-6012 to sign-up for a webinar today, or simply sign up online!
Watch for More HelpFul Tips!
Also, keep an eye out for our helpful SavvySchool™ and SavvyRecipe™ articles here on the SavvyCard blog. Each one will cover a different topic that explains how to use SavvyCard to realize one of its great benefits.
Stay Savvy!
– The SavvyCard Team
Social Share