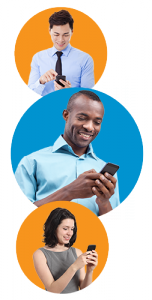 Then we want to hear from you!
At SavvyCard, we pride ourselves on being a people-focused company. We care deeply about our customers. Not in an "Oh, we need customers to be successful," sort of way, but in an "Our customers are the most important people in the world to us, and we will bend over backwards to ensure we're helping them solve problems and making their life better," sort of way.
That passion drives us everyday to innovate, collaborate, design and execute on programs and products that help our customers realize success and happiness.
We feel the same way about each other here, too. Every single person here at SavvyCard is on a mission to enable others to achieve success, and we work hard as a team to realize company goals.
To fit in here, you need to be smart, inquisitive, patient, organized, incredibly driven, accountable, hard-working and hold yourself to very high standards.
If you think you'd be a great fit for a growing company going places, send a cover letter explaining why we should hire you, a copy of your resume highlighting relevant experience and tangible results of your past work, and a link to your SavvyCard to info@savvycard.com. If we don't have positions open that fit your skill sets but we think you're an amazing catch, we'll keep your info on fiile for future opportunities.
Go ahead, send us your stuff. You'll never know what can happen until you try!
Social Share