SavvyCard's web app makes it easy to connect with people on mobile, but what if a customer researching a business on a desktop or laptop decides to get up and go there? For most browsers, the transition away from desktop still means writing an address on a scrap of paper or typing it into their phone.
SavvyCard's new Send to Mobile™ technology feature streamlines that experience. With the Send to Mobile tool integrated into a web site, users who find you on their desktop can input their mobile number, and a matching SavvyCard web app will be sent to their smartphone.
For instance, you could enable your desktop website to send a web visitor your company's SavvyCard web app, making it easier for them to get away from their desk and find your location.
Or, if you're a Realtor, you could send a Property SavvyCard™ web app from a webpage featuring the same property, so that prospects who love that house can take vital information with them on the go. SavvyCard, in collaboration with web design agency ThinkTank, has deployed the Send to Mobile tool for St. Pete Realtor Bonnie Strickland – go check out her site. It's really cool.
How the Send to Mobile™ Tool Works

When you implement the Send to Mobile™ tool, our designers will place "Send to Mobile" buttons next to relevant content on your site, like this one for our clients at the financial services firm McLanathan, Burg & Associates: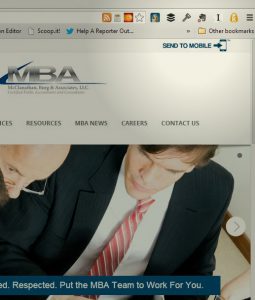 When users click on the button, they'll see a popup inviting them to enter their number and name to receive the SavvyCard web app you've associated with the page.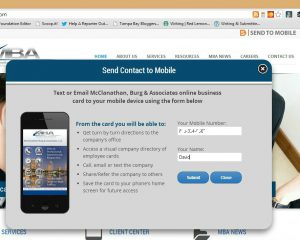 Then they'll receive a text message with a link to the associated Savvycard web app.
Then, they just have to open the link, and they can easily find, call, or email you or your office from their mobile device.
SavvyCard's Send to Mobile™ Tool Generates Leads
More than just helping customers keep in touch with you, the Send to Mobile tool helps you stay in touch with them. That's because the Send to Mobile tool will record the contact information of people who request a mobile link to your website, so you can follow up and make sure they've gotten the help they need.
To find out how to get SavvyCard's Send to Mobile tool for your website, contact sales@savvycard.com or call 727-502-6012.
Social Share