How much revenue would you gain if you ranked #1 on Google for a key search phrase? $10,000 a year? $100,000? Well, some time spent on your SavvyCard can get you there. Because your SavvyCard is a website, Google will examine it for keywords and links, then rank it in search results according to what it finds.
Todd Johnson, a home inspector in Tampa, was an early adopter of SavvyCard. Now, Todd's SavvyCard ranks #1 in Google searches for "Tampa Home Inspection" and "Tampa Home Inspector." Have a look: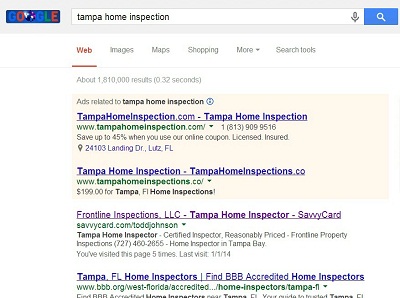 Todd's SavvyCard ranks higher than the Better Business Bureau's site rating home inspectors in Tampa. He ranks higher than the desktop website of his next closest competitor. Right now, he ranks higher for "Tampa Home Inspection" than a competitor whose domain name is Tampahomeinspection.com.
Have a look at Todd's card, which is fully customized to take advantage of the traffic. Then keep reading to learn about getting those results for yourself.
Optimizing Your SavvyCard 1: Using the SEO Menu
SavvyCard has a built-in tool making it easy to edit key SEO features on your card. To access the SEO Menu, log in to your Dashboard at SavvyCard.com. Then click on Edit This Card to access the Cardbuilder, and click on theMarketing Tab and the Search Engine Optimization submenu.
1. Add a Powerful Title. In five or six words, give the name of your business and describe what you offer.
2. Write a Clear, Compelling Description. Once you get a great search ranking, you have to give customers a reason to click on your link in the results. The content in the Description field will appear on Google results under your Title. Enter a succinct description of your unique selling points, such as your specialties, strengths, or approach to doing business.
3. Put the Right Keywords on your Card. Choose three or four keywords describing your business, and enter them in the Keywords field of the Search Engine Optimization menu. You can use Google Keyword Plannerto find frequently searched terms.
Optimize Your SavvyCard 2: Optimizing Content and Links
1. Add Keyworded Content. To really get Google to notice your card, you'll need content that reinforces your keywords. Fill out your Profile and Organization buttons using the same keywords and phrases you used above.
2. Place Links on your Card. Fill out your "Recommend," "Savvy, and "Social" buttons with links to good, trusted websites. Google ranking is partly based on outbound links.
3. Add Inbound Links to your Card. The easiest and most effective way to get inbound links is to post your SavvyCard to your own website and Facebook pages. Earning great links is an art and science in itself, but one great place to start is Moz.
Results like Todd's don't come overnight, but taking steps like these will earn you a better Google ranking – and more customers.
Get to it, and Keep it Savvy!
The SavvyCard Team
Social Share