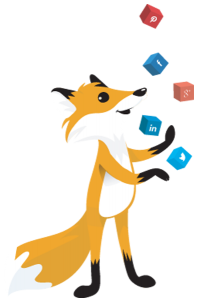 As a REALTOR®, are you using Social Media to get new leads? If not, you should.  As social media expert Sprout Social reported at the end of 2014:
Real estate content on social media generates the 2nd largest inbound engagement from users BUT …
… the response rate from owners of this real estate content to this inbound engagement ranks only 13th, which means that REALTORs are NOT taking advantage of the interest that's out there!
If you don't post real estate Social Media content on a regular basis, you're missing out on a ton of business.  We have crafted some solid tips on how SavvyCard can boost your social media presence without much time, effort or pain! 
4 Content Tips for Generating Leads on Social Media
1) 

Share Your

SavvyCards

on Social Media Often
Post your

SavvyCard

for Agents (and your Property

SavvyCards

if you have the upgraded Agents Pro

product) to your social media pages at least 2-3x a week so people have an opportunity to engage with

them. 
2) 

Provide a Valuable Reason to Engage and Share
Give people a valuable reason to interact with and share them, like "If you or someone you know is curious about

selling their home, share my

SavvyCard

with them so I can provide a complimentary market analysis," or "Open

House this Saturday! Use this Property

SavvyCard

to preview the property and get driving directions."
3) 

Get Creative With Your Reasons And Fulfill Needs
Give different, valuable reasons to engage with your card each time you post it. For example: 
Selling a home? Contact me for great advice on what to expect and what to avoid.
Buying a new home? Let me show you how to avoid the most common mistakes.
Before you make important real estate decisions, feel free to contact me so I can educate you on the market.
Looking for trustworthy service vendors? I have worked with many and only recommend the best. Contact me and I'll refer you the vendors you need.
If you're thinking about refinancing or are interested in a home equity line, contact me so I can walk you through what you should know to make the right decision.
Do you know everything a REALTOR is required to do for you by law? And what they can not? Contact me and I'll educate you so you are protected the next time you buy or sell a home.
… and many more (you're limited only by your creativity)!

4) 

Start Conversations
Conversations lead to trust, and trust leads to inbound referrals, so start conversations when you can. For example,

ask people if they think their home has increased or decreased in value over the last 5 years. Once they answer,

engage in a conversation and eventually offer to do a market analysis so they know for sure. Send them your

SavvyCard

so they can contact you and have your permanent contact info.
Like These Tips? Sign Up for Complimentary Training
Sign up for free SavvyCard training with SavvyCard's Customer Success Specialists.They'll teach you a bunch of innovative and effective ways to help generate new business using your SavvyCard. You've nothing to lose and lots to gain!
As always, if you have questions call us at (727) 502-6012 or email support and be sure to keep an eye out for our next SavvyRecipe for Success.
Social Share