While your MLS app offers a wealth of useful and accurate information, accessing it on mobile can sometimes be
frustrating and time consuming. Fortunately, SavvyCard® has developed an intuitive MLS Quick-Search tool that assists you in finding the right listing for your buyer – quickly. The MLS Search on your SavvyCard lets you perform property searches on the go – even by Geo-location – and more importantly, gives your customers the ability to do the same. You can even point them to your listings in particular.
One of the most important reasons to show your customers how to use your SavvyCard QuickSearch is that ANY search done through your SavvyCard appends only YOUR contact information to the property search results. Anyone doing an MLS search through your SavvyCard will only be able to contact you if they are interested in a property, even if you're not the listing agent. This is true if your customer shares your card with another person, too – any requests for showing or information on properties that display when THAT person does a search also comes directly back to you, too.
Follow these 5 simple steps to find listings quickly and easily with your SavvyCard:
Find and launch your SavvyCard Mobile App on your phone or other device. If you need a refresher on finding your SavvyCard, check out this SavvyCard blog post for details.
Tap the Share button to send your SavvyCard to your customer. Once your customer has your card, you can search the integrated MLS listings with your customer, in person or on the phone, showing them how responsive your SavvyCard's MLS search is.
When your customers find a property they like, have them fill out the simple form at the bottom of the listing details. All requests that come from a search conducted on your SavvyCard come directly to you, so you can follow up with the listing agent, make appointments, and schedule showings.
When you take a customer to a showing and they like the neighborhood, but not the home itself, use the GPS-based MLS search from your SavvyCard to find matching homes nearby. Active SavvyCard user and REALTOR® Bonnie Strickland made a $2 million sale because she was able to show a client all her listings in just a few seconds, while they were standing in a driveway looking for other properties to view. View her testimonial video for the whole story.
If you have the SavvyCard for Agents Pro upgrade, your search always begins with a focus on your Featured Listings (your own listings and sometimes those of your brokerage). You can use this list to swiftly access key property information in order to immediately show people what you have available. This quick and easy MLS search, is embedded right in your SavvyCard!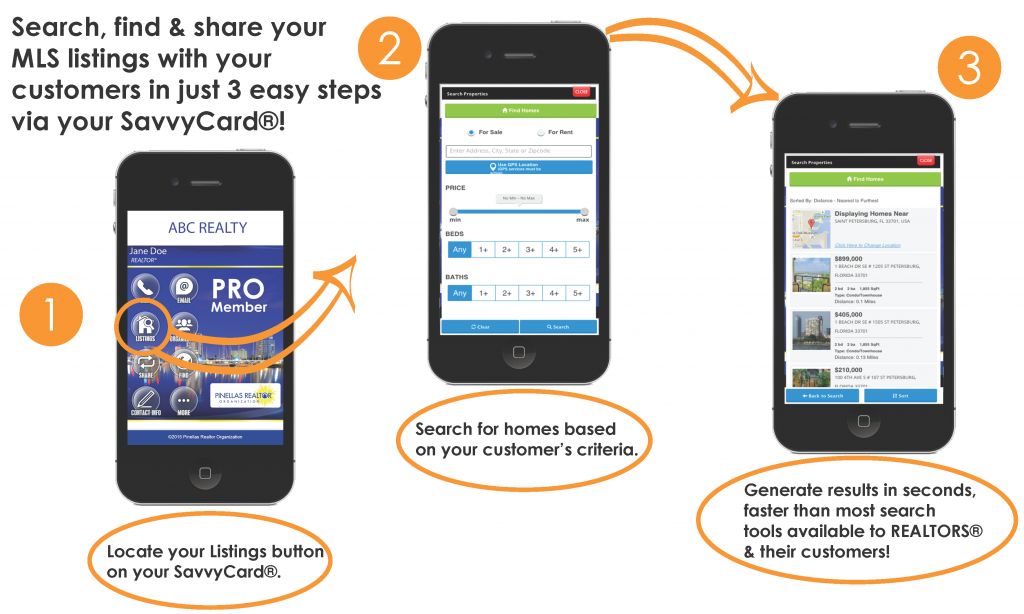 Do these tips work for you? Sign Up for Complimentary Training
Sign up for free SavvyCard training with SavvyCard's Customer Success Specialists.They'll teach you a bunch of innovative and effective ways to help generate new business using your SavvyCard. You've nothing to lose and lots to gain!
As always, if you have questions call us at (727) 502-6012 or email support.
Social Share