How Many People's Email Addresses Have You Actually Saved To Your Phone's Contact List?
If you're like most people, you'll probably say "not many". Smartphone Contact Lists are surprisingly dumb, making you manually add information like email addresses and websites to each of your entries. Contact Lists that are that much of a hassle to assemble are painful to use and SavvyCard® hates pain; specifically, your pain.
And so, let me introduce you to SavvyDecks, a great feature built into your MIAMI® Association of REALTORS® SavvyCard. With SavvyDecks, you can organize and quickly access the SavvyCards of important people (or at least, people important to you) – and since SavvyCards have a complete collection of contact and profile information, updated by the card's owner, you won't have to fumble around your phone to find anything.
How To Use SavvyDecks:
Using SavvyDecks is easy. First, be sure you're logged in to your SavvyCard account on your phone (Just point your mobile browser to savvycard.com to find the login page). When you're logged in, simply scroll down to the bottom of any SavvyCard you receive, where you'll see a row of larger buttons. The second button from the right says "Add to My Decks."
Here, you can see me adding Carmen Aviles – I've been looking for a condo in Miami, and she might be the right realtor for me (hey, a guy can dream).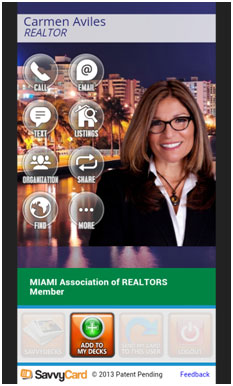 Note the Highlighted "Add to My Decks" Button
To see your SavvyDecks, just scroll to the bottom of any SavvyCard and hit the "SavvyDecks" button. If you're keeping your own card on your phone's home screen for easy sharing, you also have quick access to SavvyDecks.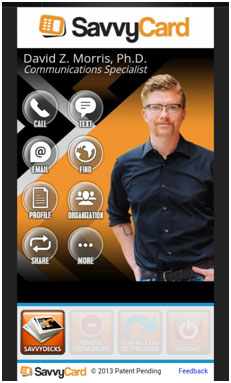 Click on the 'SavvyDecks' button to access your Saved Cards.
After you click, here's what you'll see: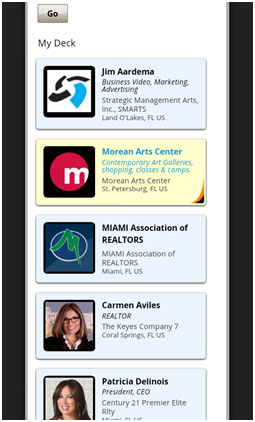 Your SavvyDeck is your Little Black Book of SavvyCards. The 'MiniCards' in the directory show the icon, name and company of all the people you've saved to your SavvyDecks. Simply press a MiniCard to launch that person's full SavvyCard.
To make sure your own card shows up in other people's SavvyDecks with a nice custom thumbnail, check out the available customization options which include a custom logo.
Click on any Minicard and you will pull up the associated SavvyCard – and you'll be able to call, email, or text the person immediately.
So, for all your crucial contacts be sure to get their SavvyCard, and save it to your SavvyDecks. That way you'll have all their contact information, social media, and web links in one place. And make sure all your contacts do the same with your SavvyCard.
Stay Savvy, my friends!
Social Share