Automated Facebook Ads
Grow your business and attract new buyers and sellers with SavvyCard's Automated Facebook Ads. We use your Agent and Property SavvyCards to automatically create Facebook ad campaigns for you, so no work is needed on your part. You only pay when a new ad is created, so there's no monthly charge.
SavvyCard's Automated Facebook Ad program includes:
Custom ad design
Dedicated ads concierge
Real-time lead notification via text and email
Complimentary ad performance reporting
Ads go live on Facebook within a single business day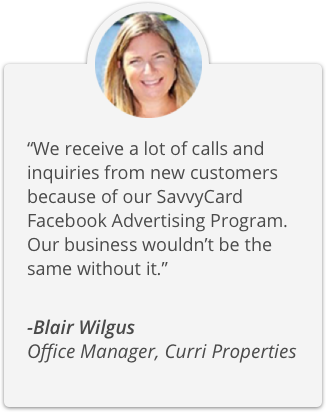 Why It Works
Automated Facebook Ads are designed to deliver a low cost-per-click and excellent visibility! Our ads consistently perform better than competitive and do-it-yourself ads.
You receive massive brand awareness generated using SavvyCard's proprietary demographic targeting process.
You save time! AFA provides the value of a full marketing team, so you can focus on the relationships that close deals.
You get expert knowledge! AFA uses the most current Facebook strategies and best practices to maximize engagement, exposure, and lead generation while minimizing cost.
Automated Facebook Ads Work

"I received over 9,000 views for my listing over a few days and generated a lot of new business as a result. It's an excellent program." –Joyce Roberts, REALTOR, Jacksonville, Florida

"I received 10 inbound calls, 40 people showed up at an open house, and I got a lot of new customers. Pretty awesome." –Kevin Bullis, REALTOR, Pinellas County, Florida
Get Started With Automated Facebook Ads Now